directed by middle eastern dancer hanan, the h.a.c. is a multi-disciplinary organization of artists, musicians, dancers, HipHop artists, producers, community leaders and activists with the shared mission of furthering peace initiatives, social justice and community empowerment.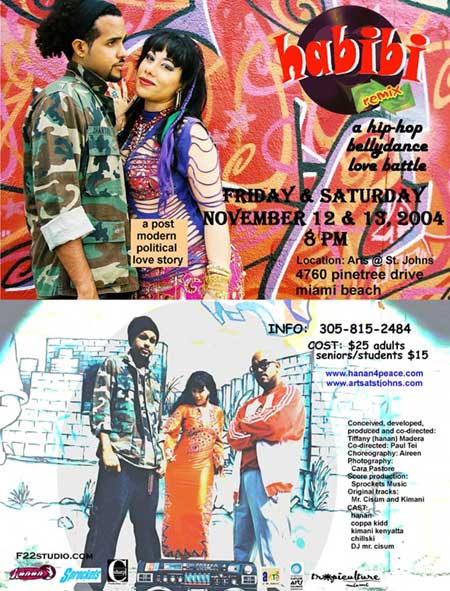 Hip Hop and Bellydance Come together for World Peace!
The HABIBI REMIX is an interdisciplinary work created, developed, produced and co-directed by Tiffany "hanan" Madera. The original work was performed on April 19, 20, 26, & 27 at PS 742 and co-presented by ARTEMIS Performance Network in Little Havana, Fl. The long awaited dance theater work: The HABIBI REMIX is the 2004 remake of the original. This provocative, sexy, often militant and tender love story unfolds in the languages of today's most controversial and misunderstood modes of expression; hip hop and bellydance. The story is one woman's search for a love that inspires passion, creativity and global peace.
Critically acclaimed and internationally renown bellydancer Hanan, plays HABIBI's heroine. She symbolizes a Utopian "Miami"; an international melting pot that bridges cultures and peoples through the spirit of LOVE. The narrator of the show, spoken word artistKimani Kenyatta serves as Greek Chorus and eases in and out of every scene manifesting different characteristics of humanity; lust, creativity, EGO, jealousy, forgiveness. The "love battle" takes place between our two male heroes "Coppa Kidd", the rapper- who leaves our heroine for the promise of a glorious rap career in New York and "Chillski", a popper (breakdancer), who dances tirelessly in hopes of winning Hanan's heart. The DJ, the "omniscient observer" mixes and scratches live onstage as if "orchestrating" the events that unfold with a master, spiritual plan.Mad Cat Theater Company's award winning Artistic Director,Paul Tei, joins HABIBI as the Director and adds his out of the box and cutting edge flavor to the interdisciplinary work.
The HABIBI REMIX is the theatrical answer to the East-West global conflict. Juxtaposing two art forms that come from a distinct economic and social underclass that transformed pop culture; the dance play operates at different symbolic levels. Through choreography, DJ mixes and spoken lyrics the global political battle between the East and West serve as a backdrop in addressing the East Coast vs. West Coast battles in U.S. hip hop. Sexual politics and gender roles are also addressed as our heroine demonstrates her feminist ideals and exercises her feminine power in unexpected ways.
The HABIBI REMIX is a remarkable innovative and unique dance theater work that is not only daring, sensual, whimsical and controversial, but it is a piece that offers a unique opportunity for intercultural appreciation and dialogue.
---
CAST BIOS
Willy "Chillski" Perez is the founder of the dance crew known as the Deadly Venoms. He has been performing the dance known as "Popping" or "Electric Boogie" since 1982 and "Brooklyn Uprocking" since 1984.Chillski formed the Deadly Venoms in the mid 90's when a renaissance in b boy culture emerged. He has performed in various productions and musical conferences including The B Boy Pro Am,Ultra Fest, and Beyond 2002. He has opened for such musical acts as The Sugarhill Gang,Doug E Fresh & Slick Rick,and Debbie Deb.He also has appeared in several television shows in Mun2s, Fox,and Univision television networks such as The Roof, Deco Drive, Control, and Ritmo y Sabor,as well as being featured in The Spam Allstars music video "Descarga Gusana".
Chillski also performed in the original " Habibi" along side Hanan.
CHOREOGRAPHER, and STAGING DIRECTOR, AIREEN:
Inspiring, charismatic, passionate and exciting, Aireen is a dancer of elevated artistry. Poetic and deeply sensual, her grace evokes the mystical beauty of the Oriental world, yet her elegance and dynamism captivate audiences from East and West alike. Her life long experience in theatre and dance give her a mastery of the stage that, coupled with the fresh effervescence of her style, make her truly unique among the nations top performers of the genre. Musical and internal she captures the authentic sentiment of Middle Eastern dance and brings a powerful modern expression to this extraordinary art form.
Aireen's talent also extends to her charitable work. As an unprecedented accomplishment, she has single handedly choreographed 2 full Oriental dance concerts, with over 40 dancers- spanning 6 decades in ages- to raise nearly $20,000 to benefit the St. Jude Charities! Aireen's humanity, together with her extraordinary musical sensibility, landed her the prized role as choreographer of the interdisciplinary theater work; The HABIBI REMIX. Her vast dance vocabulary, patina of choreographic storytelling and inter-cultural understanding has Aireen revered as a "high art" choreographer, par excellence.
In constant demand by the Arabic community, she has shared the stage with Superstars Nawal Sougbi, Wael Kafoury, Saber al Roubai, among others, and was invited as opening artist of the Fadl Shaker tour of the U.S. A resident of Miami she teaches Oriental dance at the University of Miami, and travels abroad to instruct and perform.
Coppa KIDD: Coppa Kidd is an emcee & deejay with dreams of achieving inner heights. Originally from Kingston, Jamaica, the self-proclaimed dreamer is "a member of the dancehall generation," so his early childhood was spent absorbing the sounds of Roots, Rocksteady and Dub mixed with Reggae and a touch of Rock 
and R&B.
After relocating to Miami, Florida, his love for music continued to grow alongside this thing called Hip Hop, and it began to bear fruit in Gainesville at the University of Florida, where he joined up with the underground collective called 101 VIBES. As part of the101, Coppa cultivated his craft through numerous performances at local venues and countless nights in the studio. This led to other opportunities where he collaborated with different artists, musicians, and social activists in the community on a variety of 
projects; which also included taking the stage before a diverse list of recording artists such as the Ying Yang Twins, Spragga Benz, and the Roots, to name a few. With this experience in hand, he went back to the basics, and found refuge once again in Miami, where he now embarks on his own mission of self-discovery through the art of words and sound.
After bouncing around on various underground compilations, mix tapes, and other solo projects, the time has finally come for him to reside on his own. In addition to being one of the original members of the 101, he is also closely associated with the Boogie Institute in Tallahassee, where he has begun work on his first solo project with producer extraordinaire Dobie Gillis among others.Nevertheless, his unique flavor and delivery brings a refreshing element to any track he resides on, and his words are merely reflections of life and
lessons learnt through experience.

Mr. Cisum, born Larry D. Fowler, Jr., chose his moniker for one reason, the ever growing interest in the mystic power of music. Coming from a trumpet background, 'Cis' as he's called by colleagues, applies traditional music theories to the device with fast growing social acceptance as a legitimate musical instrument, the turntable. Crafting his sound out of the soulfulness of the blues, the intricacy of jazz, the rawness of funk, the attitude of hip-hop, and the drive of dance has created a style that is sought after by everyone from party promoters to theatre directors. Holding down a DJ residency at the now defunct Wilhelmina's Bar and Lounge in Philadelphia (1997-1999), working with acclaimed theatre director Ozzie Jones (1995-present), and touring with award winning dance troupe Rennie Harris Puremovement (2000-present) has given Cis the proper foundation in knowing how to move crowds of different ages and cultures. His aim is to engage listeners in a conversation where rhythm and sound are the words of choice.
Aside from the DJ life, the hats of producer and sound engineer are also worn. Having a small studio set up in mommy's basement at age 15 with borrowed pieces of equipment from friends led to the pursuit of a career in music production and studio engineering. While attending the Art Institute of Philadelphia (1994-1996) Cis co-founded seminal hip-hop group 'Name' with friends Ozzie Jones and Jared Taylor. The group released a series of tapes, cd's, and vinyl on all of which Cis has production credits. Also to his credit Cisum has worked with the likes of world reknown artists such as King Britt, DJ Miz, James Poyser, Vikter Duplaix, Poor Righteous Teachers, The Mountain Brothers, Common, The Roots, Jill Scott, Schoolly D., Nou, and Grand Agent. Most of this due in part to an internship that turned into a full time position as recording and mix engineer at Third Story Recording Studio in Philadelphia (1996-1999). This is where Cis learned to shape sound through old school techniques from working on older equipment. He feels that the knob twiddling approach is better for him than the more visual computer approach to mixing because he gets to mold the sound with his hands. He still practices that method to this day.
The produciton work also extends into the theatre world where Cisum helped to score and soundscape productions of "Fires in the Mirror" (Venture Theatre, Philadelphia, 1996), "Blacknativity" (Lincoln Theatre, Wahington, D.C., 1999), "Rome & Jewels" (Rennie Harris Puremovement, Philadelphia, 2000-2004), and "Habibi-The hip-hop and bellydance love battle" (Hanan Arts Cooperative, Miami, 2004). Many of these productions have travelled extensively to as many continental U.S. cities imaginable, across the border to Canada, and across the waters to England, Holland, Italy, and France.
Being able to travel has broadened the outlook for future endeavors. One being the turntable/ traditional instrumental band, 'First Element'. It's here that Mr. Cisum amalgamates all of his experiences as DJ, producer, and sound mixer into a groove fueled unit of 3 DJ's, a keyboardist, African drummer, guitarist, and flutist to further elaborate on the ideas presented by pioneers and inspirations Grand Master Flash and Herbie Hancock. By fusing the electrics of the DJ with the natural elements of acoustic sound, it is the hope that a movement will arise toward what he calls the New Jazz.
Habibi show performed April of 2002 at ps 742in miami.
Starring: Tiffany "Hanan" Madera, Richard "Speedy Legs" Fernandez, Willy "Chillski" Perez, FATHI on drums, and DJ Le Spam on the turntables.
Photos by: Pedro Portal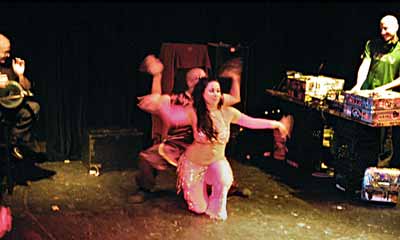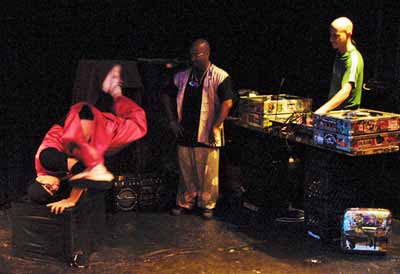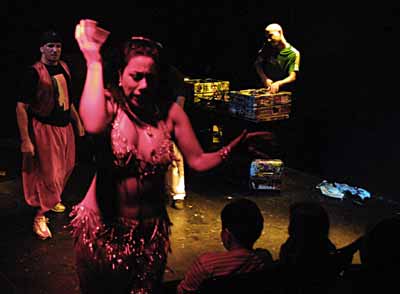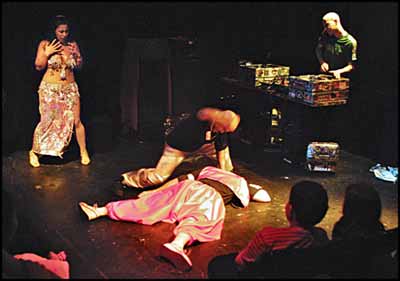 Arts at St. Johns  &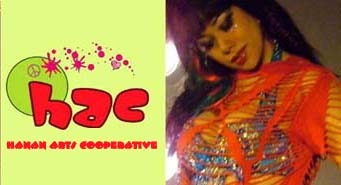 present the
Habibi ThinkTank & Orchestra
Sunday July 30th 7pm
Arts at St.Johns
4760 Pinetree Drive  - Miami Beach   
 A FREE dance and music installation performance,
 featuringHarmonic Motion
(Joe Zeytoonian & Myriam Eli)
Mecca aka Grimo
Juan Turros
Aireen
Tiffany "hanan" Madera



The Habibi ThinkTank -- a community arts activism projectwith panel discussions, lecture/demonstrations, artistic residency & performance . . . to raise political consciousness & empowerment of marginalized peoples 
Since 2002, the Habibi ThinkTank has evolved in 2 evening length Hip Hop Bellydance Theatre performances; Habibi and Habibi REMIX. The project also included an 18 month artistic residency at the Dominican American National Foundation in Allapattah serving adjudicated and underserved teens and children. The residency featured Habibi artists such as Mecca aka Grimo and Habibi Remix turntablist DJ Mr. Cisum. In addition to cast members, HAC members from NYC also gave filmmaking and political education workshops including Marinieves Alba (IHX & Zol-Lab) and Joshua Bee Alafia of Beeloved Creations. A Habibi ThinkTank panel last fall featured award winning playwright Teo Castellanos, Marinieves Alba, Joshua Bee Alafia and Tiffany "hanan" Madera.
The Habibi Orchestra is the 3rd performance installation of the Habibi ThinkTank. Featuring local gems of international acclaim, this ensemble aims to bridge geographic and psychological barriers of alienation, oppression and marginalization through the peacemaking power of collaboration. Under the creative direction of Tiffany "hanan" Madera the music was co-created by the musicians in a workshop format to address themes of shared experience. What emerged was an understanding that all participants had in their background "Persecution", "Exile" and "Miami"; thus the three pieces of the new show. The participants share musical stories of their Jewish, Armenian, Haitian and Cuban lineage while preserving the cutting edge hip hop and Middle Eastern roots of the Habibi trademark.

This performance is in loving memory of our dear friend and teacher, Dumbek Master FATHI.
THIS PERFORMANCE IS FREE & OPEN TO THE PUBLIC
  Info: 305-613-2325 or artsatstjohns@bellsouth.net
Arts at St. Johns, St. John's Church, 4760 Pinetree Dr, Miami Beach. Free on-site parking. (click here for map)www.artsatstjohns.com       
This project is partially funded through a Community Grant from Miami-Dade Dept. of Cultural Affairs

UAN TURROS. Saxophone. Born and raised in Miami, Juan Turros has been a part of South Florida music scene since graduating from Miami Sr. High in 1991. Since then he has performed or recorded with Tropica Salsa artists WILLY CHIRINO, CELIA CRUZ, ROLANDO LASERIE, HANSEL Y RAUL, LA INDIA, GILBERTO SANTA ROSA, JOSE FELICIANO, AND HUEY DUNBAR OF DLG. He has also worked with a number of jazz and pop artists including DAVID LEE ROTH, KC AND THE SUNSHINE BAND, MAYNARD FERGUSON, ARTURO SANDOVAL, JOHN FADDIS, JIM PUGH, NESTOR TORRES, THE FOUR FRESHMEN, THE MANHATTAN TRANSFER and DIANE SCHUUR. Juan earned his BA degree from Florida International University under the tutelage of Gary Campbell and his MA from the University of Illinois under the tutelage of Chip McNeill. Juan is currently performing with Afro-Funk band SUENALO and jazz group FOR IF THE FLIES.  WEBSITE: foriftheflies.com  MYSPACE: myspace.com/foriftheflies
JOE ZEYTOONIAN of Harmonic Motion is an udist, singer, percussionist, and composer who has received various grants and honorable mentions from the Florida Department of State, Broward County FL, and the National Endowment for the Arts, in addition to the 2000 Florida Folk Heritage Award from the Division of Historical Resources. He has recorded various albums including Southern Arrival, Full Circle, Danse Orientale Project, Café Makam, Whispers of Ellis Island, Ruby Mantra, and Line Out. He has also recorded with Gloria Estefan, Shakira, Jon Secada, Ana Gabriel, Azucar Morena, and Abbey Rader. He has played with Dave Liebman, Kenny Millions, Satoshi Takeishi, Arto Tunçboyaciyan, O. Faruk Tekbilek, Bobby Thomas Jr., and Taksim Band from New York City. He is co-director with Myriam Eli of Harmonic Motion Middle Eastern Music and Dance Theater in South Florida (www.harmonicmotion.com) with whom he has toured the United States, Turkey, Japan, and Latin America. His television appearances include Saturday Night Live and CNN Turk. Additionally, he teaches Middle Eastern ud and scale theory, singing, and percussion.
MYRIAM ELI of Harmonic Motion performs traditional Middle Eastern, cross-cultural, and improvisational dance, and plays a variety of Middle Eastern hand drums and percussion instruments. She participated in the Middle Eastern dance companies of New York's Serena, Morocco, and Anahid Sofian. She is co-director with Joe Zeytoonian of Harmonic Motion Middle Eastern Music and Dance Theater in South Florida (www.harmonicmotion.com), with whom she has toured the United States, Turkey, Japan, and Latin America as well as recorded several compact discs. She has received awards from the New York based American Academy of Middle Eastern Dance and Florida's Broward County. The Florida Department of State has awarded her a Fellowship Grant, an Artist Enhancement Grant, and selected her as a Master Teacher of Middle Eastern dance for the Folklife Apprenticeship Program. For seven years she taught Middle Eastern dance and drum to, choreographed for, recorded and toured with pop rock singer Shakira. Ms. Eli played percussion and her choreography was featured on television in the following: MTV, Saturday Night Live, Latin Grammy, The Tonight Show with Jay Leno, The Today Show, and The Rosie O'Donnell Show. As a flamenco performer, she has studied with Jose Molina, Maria Alba, Manolete, Matilde Coral, Manolo Marin, Ilisa Rosal, Helena Alonso, and Damaris Ferrer. She recently performed a duo in concert with Manolete.  www.harmonicmotion.com
MECCA aka GRIMO. Transforming the Spoken Word scene with his mix of the Creole language Mecca aka Grimo has been publicized as the phenomenon of The Spoken Word / Hip-Hop Creole movement. Mecca aka Grimo tours with the Haitian Heritage Museum in a presentation called "Ayiti Expose". This presentation is exhibited in schools to educate other nationalities and our own about how rich the Haitian culture is and its contributions to the world. In addition, Mecca aka Grimo is currently on tour with "The Live Poets Society" promoting his freshman Spoken Word / Poetry co  "PHARAOH 2 THUG" and a Hip Hop Creole Mix cd  "KREYOL KONNEKSYON". In (2005) Mecca aka Grimo traveled to Haiti with The Miami Film Group to complete a movie titled "KIDNAPPINGS". The movie depicts the issues of kidnappings happening in Haiti. The delicate topic also touches on other prevalent issues tarnishing Haiti's image and tourism.  Mecca aka Grimo is of Haitian descent. He was born in Brooklyn, N.Y., raised in Queens, N.Y. and now resides in Miami, Florida. For additional information check the official website at: www.MECCAakaGRIMO.com www.myspace.com / meccaakagrimo  www.FePouLi.org  www.KIDNAPPINGS.org
---
HAC Bizarre BAZAAR postponed for Friday NOVEMBER 11th 2005
due to Hurricane Wilma
HANAN ARTS COOPERATIVE

INVITES YOU TO
DEBUT FUN(d) + CONSCIOUSNESS RAISER
FOR INNER CITY ARTS PROGRAMS
SAT., OCT. 22, 2005
8 PM - Midnight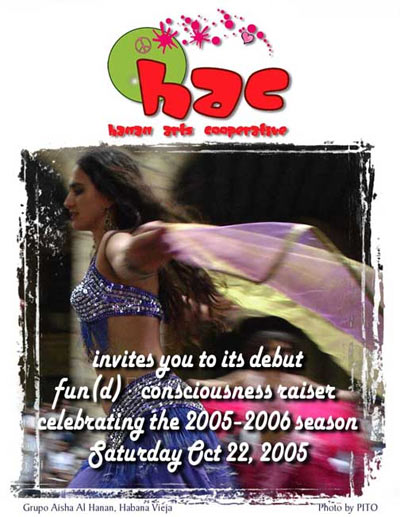 DEBUTANTE BALL FUNDRAISER
the BIZARRE BAZAAR
a coming-out, indoor-outdoor garden party
for HAC'S 2005-2006 Season of Inner City Arts Programs
and for the HAC 2006-2007 Season
Tickets: $30, with food, drinks and entertainment
Including a silent auction of rare art and luxury items, as well as exciting raffle prizes
Where: THE MIAMI BEACH BOTANICAL GARDENS
2100 CONVENTION CENTER DRIVE
MIAMI BEACH
Hanan Arts Cooperative ( HAC) is a non-profit organization comprised of multidisciplinary artists, musicians, dancers, hip-hop artists, community leaders and activists -- with the shared mission of increasing community empowerment through the therapeutic and educational power of performing arts. ( see below for details)
Confirmed artists to perform:
DJ Snowhite
Mideastern Dance Exchange Performing Company
ALVA Haitian Dance Company
TAKADA West African Women's Drum Ensemble
Performance Artist Lucky Bruno
Lady of Harp in Homage to Victims of Katrina
MECCA aka GRIMO
Middle Eastern Dance soloists Aireen & Portia
Haitian Dance by Mano Merisier
Artist installations by: Jean Villamizar, Ritartista and Haitian artist Isabelle Debrosse
Also Featuring: The FEMINIST KISSING BOOTH: You have to show up to find out what this is! Hint: Feminists like kissing... a lot! >>>> Also it takes place inside a Hummer. So - Take your shot!
Auction Items include rare art pieces by local legend artist/punk rock icon TOMATA DU PLENTY,
restaurant and spa certificates , music cds, and many more items!


FACTS ABOUT HAC:
HAC currently runs an arts-intervention program for multiple-offender youth in Allapattah and the "Dance Empowerment Project " which is a program originally designed to empower women with a background as victims of abuse. This program, now in its 4th year, goes to women's prisons, battered women's shelters, churches, and universities throughout Dade County. Starting in January, the DEP will commence a 1 year residency at a local Battered Womens Shelter with a brand new Empowerment curriculum for Mothers & Daughters.
HAC is also responsible for HABIBI, the theatre/film project, a political/social activist approach to arts and culture using hip hop and bellydance.
Most exciting of all, HAC has initiated a humanitarian cultural project in Cuba to bring performing arts programs to young women in Havana. From this project, the unprecedented and historical Middle Eastern Dance Troupe "Grupo Aisha Al-Hanan" was born.

Additionally, HAC is developing and seeking funding and infrastructure for a Little Haiti Women's Dance Empowerment Project with a sister project in Port Au Prince that mirrors the Bellydance Cuba Project .
HAC MISSION STATEMENT: HAC's mission is to create education through the arts, cultural programming and performances that uplift the human spirit and empower marginalized and oppressed populations both locally and abroad. All programs are created with the intention of increasing self-empowerment, raising social and spiritual consciousness, political awareness and cultural understanding."
HAC derived from the vision of revolutionary Middle Eastern Dance artist Tiffany "Hanan" Madera. The organization was created to universalize a movement to reach wider audiences and educate, unite and empower marginalized populations through arts programs and performance.
HAC believes in equality, empowerment and using love and spirituality to uplift communities and humanity. HAC works from the philosophy that change starts at the individual unit and moves outward towards the universal activist consciousness.
HAC uses arts education, arts activism and performance to highlight cultures and embrace diversity.
As Executive Director Tiffany Madera says, "Everyone has the capacity to rise to the occasion of generosity of spirit, unity consciousness and transformation."
HAC is a non-profit organization working under the auspices of the Arts at St Johns (a 501 (c ) 3 organization). 100% of funds go directly to fund the arts programs.
For more information, please contact Helen Clarke 786 399 9253

---
FRIDAY JUNE 10, 8-11 pm
April 8, Friday, 8-11 pm
"Bellydancing under a Red Moon"
a special cabaret to celebrate the feminine

with Harmonic Motion, hanan and guest artists





Middle Eastern bellydancing originated as a women's form of dance, by the women, for the women, performed in the women's tents, as a preparation and celebration of the feminine and of women as child bearers. The dancing was informal, happy, and full of women's comradery. Middle-Eastern dancer HANAN, Harmonic Motion artists Joe Zeytoonian and Myriam Eli; and the Arts at St. Johns seek to create a similar atmosphere in the intimate lakeside setting of the St. John's patio on Surprise Lake.
In ancient cultures and mythology, the rising of the Red Moon was viewed as a kind of cosmic cycle of the feminine moon. In recent years, some women in Israel/Palestine have presented Red Moon workshops as the antithesis of political chaos and as a communal bonding in the ancient Mother in the Middle East.
Rain or shine ** Free on-site parking
Light refreshments available – or bring a picnic basket
Donation: $15 ($12 students & seniors or online)

http://www.stjohnsmiamibeach.com/arts
At the St. John's Church- 4760 Pinetree Dr, Miami Beach
(click here for map)
Free on-site parking
305-613-2325 - artsatstjohns@bellsouth.net



---
Sunday May 1st, Hanan with Bellymotions at UVA Restaurant check www.bellymotions.com

Hanan at 3rd annual Womens Festival 4.23.2005 check www.artsatstjohns.com

Hanan at Vanessa Baez Memorial Brunch 4.24.2005 hosted by Amy Baez

Hanan as "ANACAONA"; featured in Dr. Sandra Riley's play and film of the Taino Indians, "Paradise Now" April 1-3, 2005
---
2004
---
FRIDAY OCT 15th
hanan performs with the EGYPTIAN LOVER at I/O Lounge
30 NE 14st Street Downtown Miami
details 305 358. 8007
iolounge.com
---
SATURDAY OCT 16
BELLYDANCE CUBA BENEFIT PARTY hosted by Chris Pena
621 W 51 Street
Miami Beach, Fl 33140
RSVP required to 305 801.0080 or cp621@bellsouth.net

performances by AIREEN and the Exquisite Dancers,Crystal Sawyer, Lucky,
Heloisa
featuring a world premeiere screening of JOHN MAASS' trailer for the documentary "BELLYDANCE BLOCKADE" of hanan's project in CUBA.
---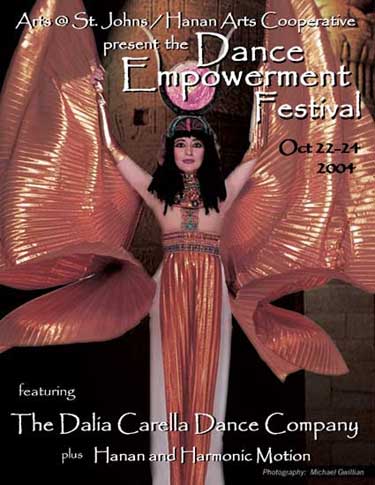 OCTOBER 22-24
featuring DALIA CARELLA and DANCERS from NYC!

FRI OCT 22
performance at ST. JOHNS 8pm 4760 PINETREE DRIVE

SAT OCT 23
11-5pm WOrkshops with DALIA CARELLA at ALL SOULS EPISCOPAL, 41st
and PINETREE MBEACH

SUN OCT 24
2-4pm ADVANCED MASTER CLASS with DALIA at MIAMI CONTEMPORARY
DANCE CO> 1919 Purdy AVE. MBEACH
www.artsatstjohns.com/arts
---

WORLD PREMIERE of the HABIBI REMIX
FRIDAY and SATURDAY NOVEMBER 12 and 13th
ARTS at St. Johns 4760 Pinetree Drive
8pm sharp